GARAGE - AUTOMATION - BARS - ROLLS - RAMPS - SERVICE
PRODUCTS

SWING GATES OPERATORS

Ghost 200 Underground operator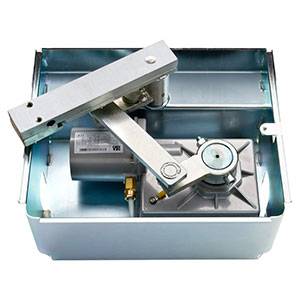 Ghost 200 Underground operator
GHOST 200 Electromechanical underground automation for swing gates
Ghost 200 is the heatest solution for the automation of swing gates.
The underground fitting does not modify shape and design of the gate.
The sturdiness of the operator and the precision of movement make Ghost 200 a elite automation.
# Suitable for leafs up to 3.5 m long.
# Undergound fitting
# Very sturdy and watertight seal.
# Simle and safe unlocking system by special key, both internal and external.
# Grease soaked gear motor.
# Quick and silent.
# Opening up to 180* (optional).
# Galvanized foundation case.
Technical information
Power supply 230 vac 50/60 Hz
Motor power supply 230 vac
Capacity 400 w
Condenser 12.5 uF
Protection lever (IP) 67
Max torque (Nm) 320
Operating temperature - 20 + 60 *C
Motor thermal protection 150 *C
Duty cycle 35%
Opening time (sec.90*) 17
Weight with packing 14.5 kg
Dmensions 420mm X 345 mm X 225mm