GARAGE - AUTOMATION - BARS - ROLLS - RAMPS - SERVICE
PRODUCTS

SWING GATES OPERATORS

Oli 603 - 605 Swing gates hydraulic ram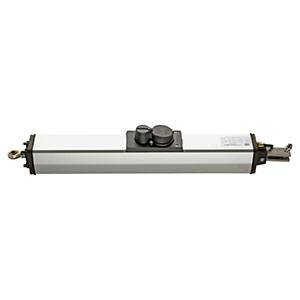 Oli 603 - 605 Swing gates hydraulic ram
OLI 600 is the hydraulic linear ram for industrial or residential installations at intensive use.
Excellent materials, compact structure and adjustable thrust enable its use also in the harder situations
Precision mechanism and the use of hydraulic oil as motor fluid are the secrets ensuring very quite movement.
The installation easy and fast, does not require any modification to the gate structure.
* Suitable for leafs up to 2 mt or 4 mt long
* Easy to install
* Simple and safe unlocking system by key
* Anti-crushing safety adjustable by two highly sensitive by-pass valves
* Available in two different lenghts
* Quick and silent
* Oil soaked gear motor
TECHNICAL INFORMATION
Power supply (50/60 Hz) 230 V
Capacity 170 W
Stroke Oli 603 270 mm
Stroke Oli 605 400 mm
Pump flow rate (1/min)          1
Traction force (kg)  2600 daN
Thrust force (kg) 3200 daN
Motor thermal protection 130 *C
Duty cycle 70%
Opening time (sec.90*)  Oli 603 21 opening 23 closing
Opening time (sec.90*) Oli 605 31 opening 33 closing
Weight with packing 11.4 & 13 kg